About Wheat Stalk Boutique
Hello friends, welcome to Wheat Stalk Boutique! 
My name is Erica and I design timeless, handcrafted, multi-tonal and natural patina brass jewelry on the extraordinary Olympic Peninsula.
I create my pieces to be noticeable, yet pure so they're easy to wear with anything you've got going on. I source inspiration from nature and geometry and center my design on approachability. The moment someone puts a piece of my jewelry on and has that sense of owning something new and beautiful… that's when it all comes together for me.
I'm a jewelry maker of over 30 years, originally sprouting from a love of scouring vintage shops for unique pieces to shape into wearable art. In my pieces today you'll discover curated elements spanning decades in synergy with modern elements.
In spirit, I'm a tom-boy-farm-girl from Oregon. I was born in Corvallis and grew up on a wheat farm in Pendleton. As a kid, I watched my father and grandfather tend to the land and provide a life for our family. I learned to drive sitting on my grandpa and dad's lap steering the wheat truck. As soon as I could reach the pedals, they had me driving the harvest to the grain elevator.
My creative process is grounded by the hard workers who've raised, supported, and inspired me and I bring it full circle today by vending at local farmers and makers markets. You'll see my roots throughout my studio and sale spaces with the presence of a lot of the original implements from my home farm. Every single piece of my history makes up what Wheat Stalk Boutique is today.
My studio is in Port Angeles, WA. It's bright, airy, and filled with houseplants and crystals. As I work, I get to look out over the waters of the Strait of Juan de Fuca.
When I'm not creating, I eat sugar and watch bad TV. I like to beachcomb, roller skate, bake, and tumble rocks I've collected.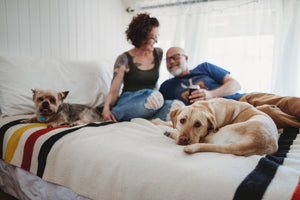 I live with my partner Erik (yes, Erica and Erik!) and our dogs and cat, Ace, Finn, and Stevie Nicks.
I'm thrilled to welcome you to the world of Wheat Stalk Boutique. I hope it brings you as much joy and confidence as it brings me daily.
Thanks for dropping in. I'm beyond grateful for your support.
Love, Erica